Featured Presentations at H5P Con 2018
Submitted by jamestagal on Fri, 11/23/2018 - 14:55
Day 1 and 2 of H5P Con 2018 is a wrap at the Victoria University, in Melbourne, Australia and they were a huge success. A powerful new content type called "Branching scenario" was announced on day 1 and "Interactive Book" on day 2 and these will go into beta release this week. The Branching scenario includes features such as drag and drop and full-screen editing, copy and paste content types while the Interactive Book has a page/section menu which is hidable, page navigation, progress tracking and the ability to mark pages complete as well as Google page indexing and more. So keep an eye out for these gems because they are exciting new and powerful content types. The Branching scenario will offer endless possibilities to craft 'choose your own adventure' type learning with multiple endpoints and scenarios. The Interactive Book reimagines how content can be organised and offers a clean and easy to navigate interface for developing course and reference learning material.
This post highlights a few selected presentations to give you a taste of some of the offerings on day 3 at H5P Con 2018.
Day 3
Interactive & 360 video in simulation education
Thomas Claeys, Artevelde University of Applied Sciences Belgium
(Working Paper - Room 1 from 11.30 – 11.55)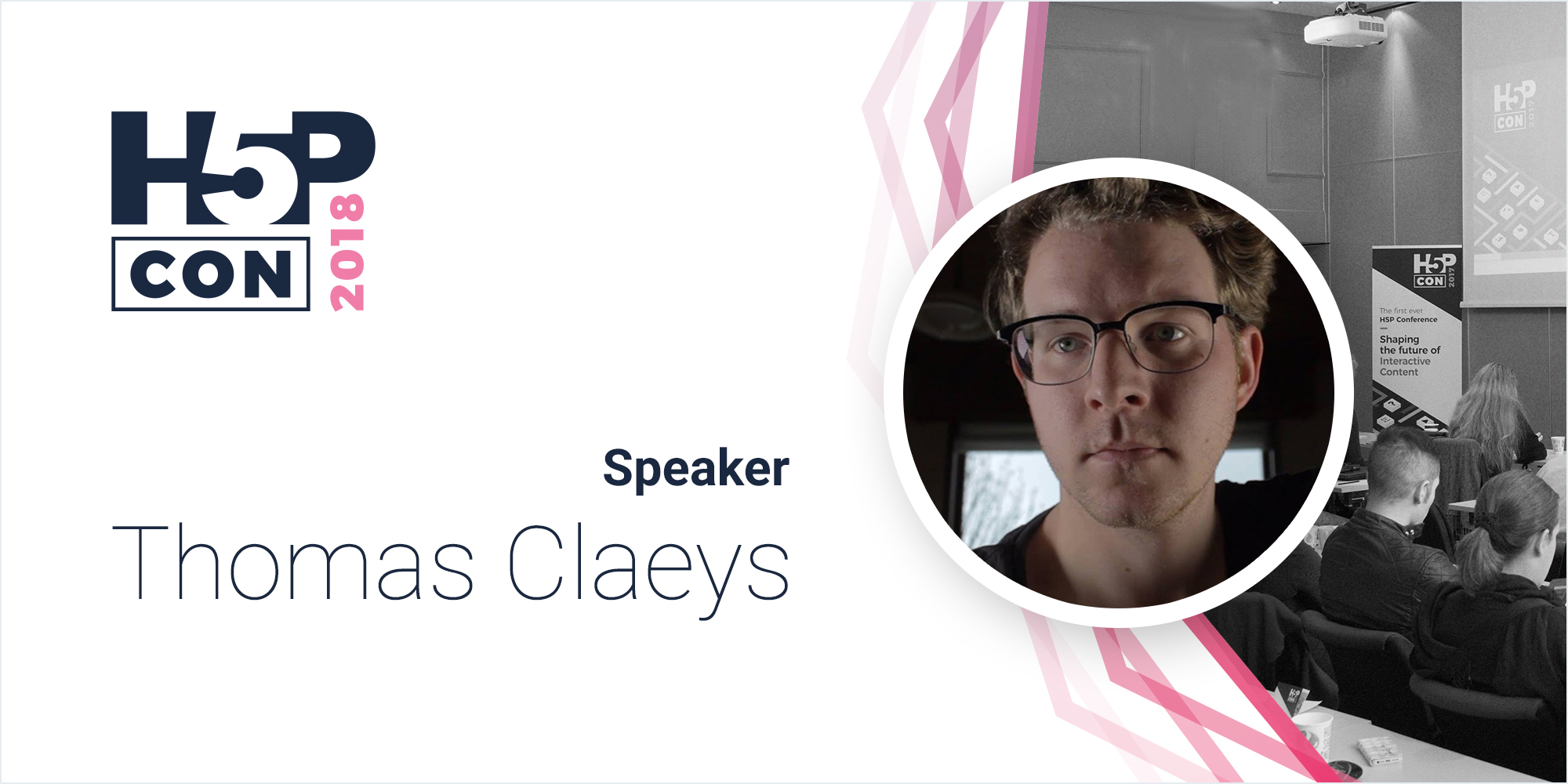 Skills training in the 21st century is a challenge for any healthcare training program because of an increasingly complex educational setting. There's a diverse group of stakeholders such as students, mentors and skills teachers, a changing healthcare context, flexibilization of higher education, limited time in class and countless skills that need to be taught and learned.
Essential steps in the learning process of a complex motor skill are qualitative demonstration and feedback shortly after the execution of the skill (Nicholls, Sweet, Muller, & Hyett, 2016). According to research, these steps can be enhanced in quality with the use of video capture as a learning tool for both demonstration and feedback. The use of virtual reality (VR) and multiple-camera-perspective can support the student in learning to execute the skill because these tools offer a more realistic context and they enhance self-evaluation and -insight (Vaughn, Lister, & Shaw, 2016). In addition, interactive video can offer multiple learning opportunities that enhance deep level learning. The midwifery program at Artevelde University of Applied Sciences piloted the use of H5P technology, video recording and VR in skills and simulation training. The effect of the use of these tools, VR and multiple-camera-perspective, on students and teachers were measured by qualitative methods.
These positive findings are currently leading to the development of a project on interactive and immersive training resources in the field of nursing in which H5P interactive video and branching scenarios will be essential technologies. This project opens up new and powerful international collaboration possibilities.
References:
Nicholls, D., Sweet, L., Muller, A., & Hyett, J. (2016). Teaching psychomotor skills in the twenty-first century: revisiting and reviewing instructional approaches through the lens of contemporary literature. Medical teacher, 1056-1063.
Vaughn, J., Lister, M., & Shaw, R. (2016). Piloting augmented reality technology to enhance realism in clinical simulation. Computers, informatics, nursing, 402-405.
STEM-World mixed reality & Project MINTernational innovative – using H5P-videos to support problem-based learning and a combined
Jan Erik Kunze, Ruhr West University of Applied Sciences, Germany
(Working Paper - Room 1 from 3.00 – 3.25)
Problem-based learning is among the teaching-/learning methods that are claimed to prepare students best for the requirements of the 21st-century working environment. For this reason, the method was integrated into basic courses of engineering mathematics at the Ruhr West University of Applied Sciences in Germany. To enhance learning processes the fictional world 'STEM-World' was created where all posed problems are located. The problems draw connections between the mathematical content and engineering issues. Learners handle these problems in small groups and submit their solution for review. The sample solution often covers more than 30 pages. Freshmen may be intimidated by this huge amount of pages. That is why we develop STEM-World mixed reality. In this project, the classical STEM-World is embedded in a mixed-reality game-setting. The single steps concerning a problem are explained by means of interactive H5P-videos. Thus, STEM-World is coming alive: The problem is solved in a playful approach. Predefined pauses in the interactive H5P-videos guarantee the required time to process complex content. Hence, STEM-World mixed reality represents a new application of H5P-videos by embedding them into a virtual reality.
Another innovation is the extension of interactive H5P-math-learning-videos by one dimension in order to learn the technical subject-specific language in parallel. This award-winning project 'MINTernational innovative' enables refugees and international STEM-students to prepare intensively for the terminology used in basic mathematical courses ahead of their lectures.
In the presentation, both projects will be explained. A discussion about the associated applicability of interactive H5P-videos and technical challenges or difficulties in their implementation is also taking place. The presentation ends with a perspective of further developments and research plans for both projects.