Message: Couldn't communicate with the H5P Hub.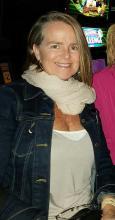 Hello again,
Hope this message finds you well, and thank you for your continued support, and expertize.
Today I'm requesting your help with getting H5P content types running on my PRODUCTION server. I've been evaluating H5P on my DEVELOPMENT server. I had a little difficulty installing the content types on the DEVELOPMENT server, during the process I would receive errors, but after waiting 30 minutes or so the content types would show up under the H5P hub list, and function without error. Kind of strange.
So, now I have the H5P module installed on my PRODUCTION server, but I'm unable to get to any content types to come up - either through the H5P hub list or by uploading a local copy via the upload radio button option.
Attached please find my error messages and error logs.
File h5p_error1.png: Message I receive trying to Create Content from the H5P hub.

File h5p_error2.png: Message when I try to upload the .h5p file from my local drive

File h5p_error3.txt: Message when I return to home page

File h5p_error4.png: Drupal Report Error Message
Any idea what's going on? Thank you for your help.
Susan