Copy paste
Submitted by
telugu
on Mon, 06/08/2020 - 16:20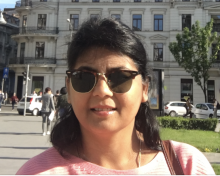 Hi,
I am trying to buils Course presentations in Moodle course. All my course presentations are similar. ( Logo, bg template etc. with two questions at the end). And I built Course presentation by cloning slides so that my logo and background image will be there in each slide.
So would like to use Copy + Paste option. I copied content from one course with copy option on top right corner and added a new H5P activity, tried pasting there.
The result is presentation got pasted but the logo and bg images I used were not pasted. I tried re placing images on first slide. But they are not replaced in cloned slides :(.
May be I should enable Display action bar and frame and copy and paste...it might work.
Or Download.
Any thoughts on this is appreciated.
Thanks in advance.