Course Presentation and video protection
Submitted by
Adi Hillel
on Mon, 02/20/2017 - 16:03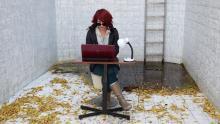 Hi,
When I create a course presentation, I have 2 options to combine videos:
1. Regular video (from the upper tool bar)
2. Interactive video.
If I choose regular video then there is a download button that I cannot remove (even if I uncheck the download button).
To avoid that, I use the interactive video instead, even if I have no interaction, but then on the summary tab it looks like I haven't completed an activity and I loose points.
Any suggestions?
Thanks :)