Content shown as a line
Submitted by
Adi Hillel
on Mon, 09/25/2017 - 09:29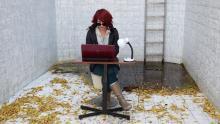 Hi
I use Moodle 3.2 in which I embed H5P with the embed code.
Unfortunately, the activities (interactive video, slide presentation, hotspot) are shown as a line, as you can see in picture 1.
Only after pressing the "download" button I can see the all activity (see pic 2).
Would appreciate any help :)
Thanks!
Adi