June 2021 Release
Live engagement tools
H5P.com will now enable students to engage one another and their teacher in real time:
These new tools are excellent for conducting surveys and facilitating discussions in both the virtual and physical classroom. Teachers may collect immediate feedback in order to adjust teaching and learning, as well as to measure progress throughout the lessons.
All the new live engagement tools offer:
Live reports.
Reports stored in each student profile.
Report exports (csv).
Background music (several included options, and you may upload your own).
Fully customizable color themes as well as several ready made WCAG compliant themes to choose from.
Extra polish with animated backgrounds and a captivating student experience.
We'll now go through each of the new live engagement tools.
Emoji Cloud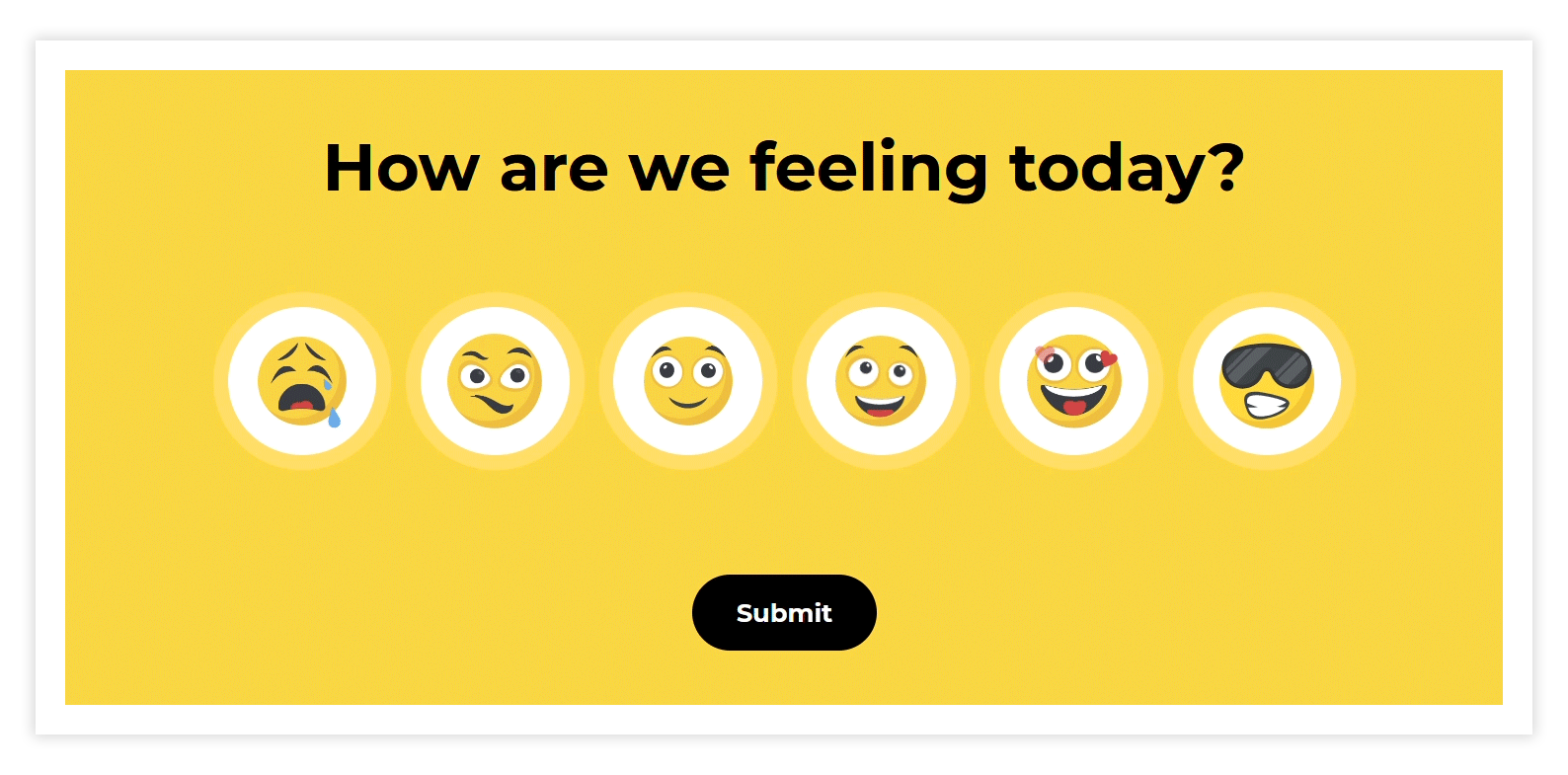 Emoji Cloud - Student view
The simplest of the live engagement tools is Emoji Cloud. Students respond to a question using an emoji. It may, for instance, be used to get feedback on how satisfied your audience is with a session they just had.
Try it out!
Word Cloud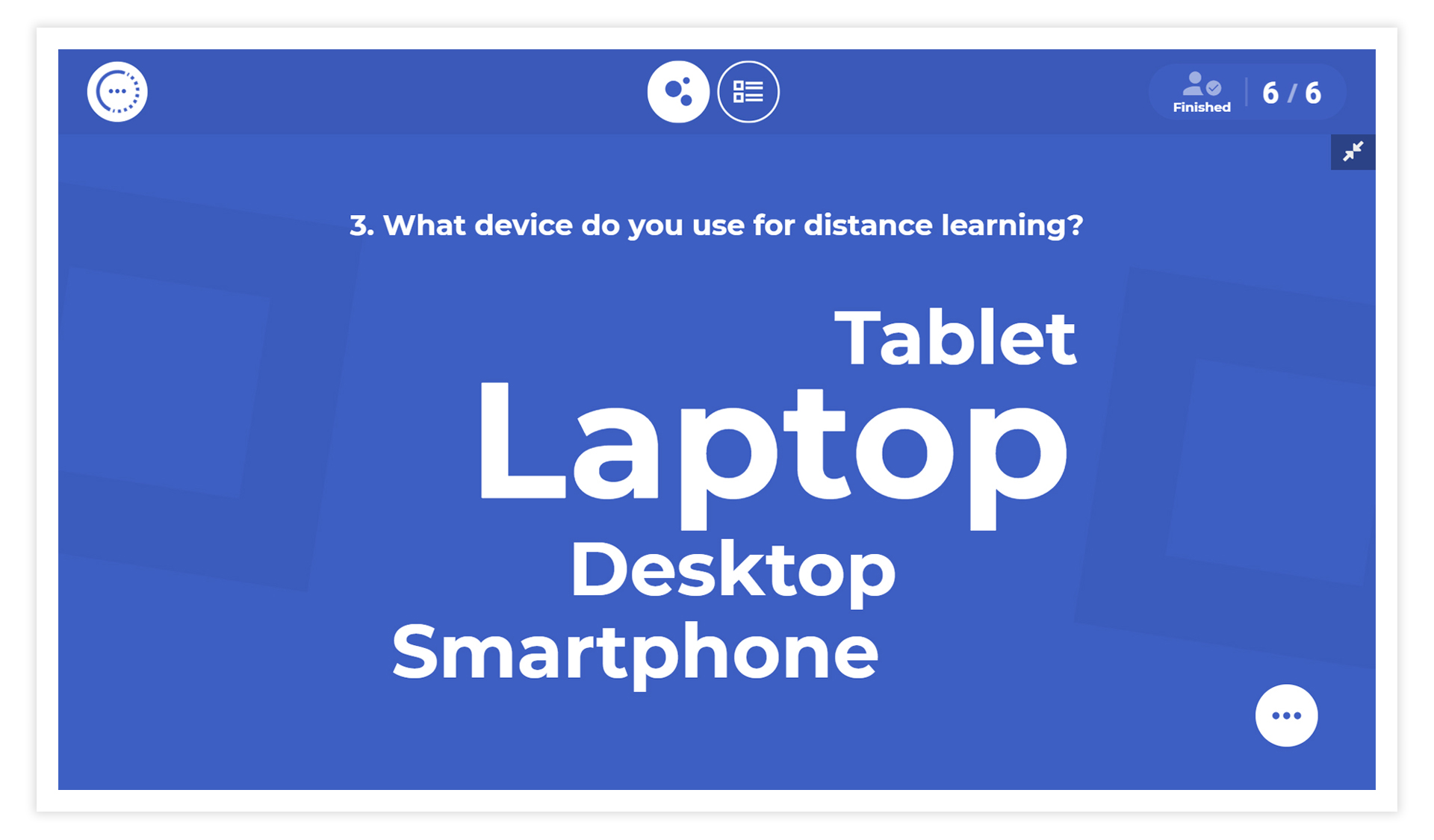 Word Cloud - Presenter view
To be able to gather more detailed feedback from your audience, we're also offering Word Cloud. With Word Cloud, users may answer a question by choosing between predefined words or typing their own. The results are presented both as a word cloud and as a tabular view.
Try it out!
Multipoll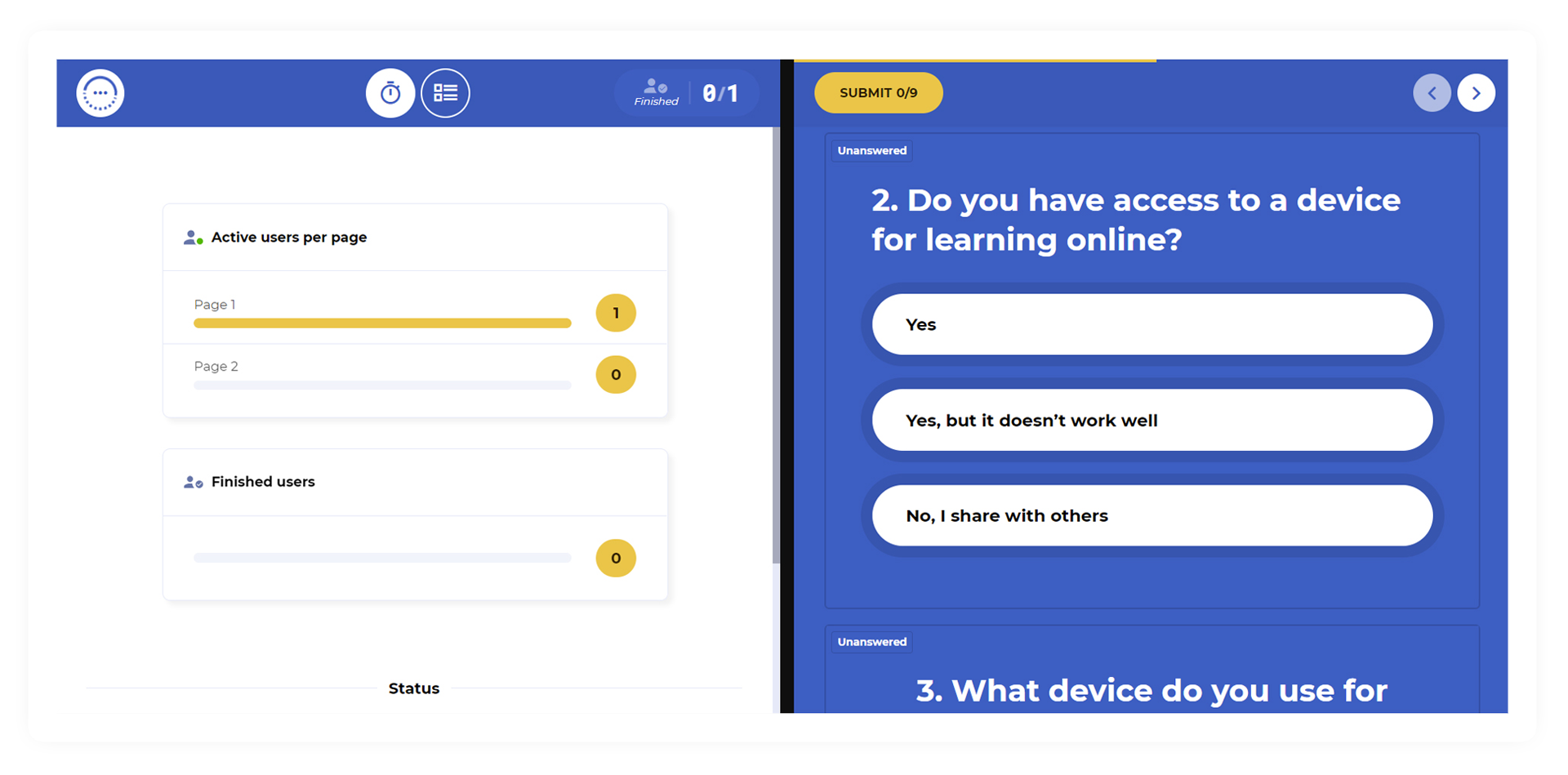 Multipoll - Presenter VS Student view
Multipoll allows you to combine Emoji Clouds, Word Clouds, Image Hotspot questions, Multiple Choice questions as well as texts, videos and images into a larger experience with multiple pages. Multipoll may be used to conduct larger surveys or as an intro to a larger discussion for instance.
Try it out!
Availability
Available to all H5P.com customers who are on enterprise or standard rate plans at no extra charge!
Reach out to your customer support specialist to have the features enabled for your account. We will provide access to customers in the EU first, as we want to make it easy for our team to monitor the traffic extra carefully in the beginning.
Customers on "grandfathered" or legacy plans (plans limited to a certain number of authors and learners at a price lower than our standard rates) may upgrade to the standard rates or to enterprise to get access.
Credits
The live engagement tools have been co-sponsored and co-designed by
Victoria University
. Special thanks to Michael Sturmey and Simon Lismann.
Branching Scenario 1.0

The Branching Scenario is now out of beta. Lots of fixes have been made based on the feedback we have received throughout the beta period.
Highlights
Ability to require all learners to complete the content before they can continue to the next step.
Setting for allowing learners to go back to the previous content item.
The resume button will be much more prominent, presented as an overlay at the end of a video or presentation.
See it in action:
Other improvements
Lots of user experience improvements have been made for both authors and learners. The Core Team has also completely rewritten the dynamic scoring and fixed lots of bugs from the beta phase. I hope you will enjoy using the new and improved version of the Branching Scenario.
Availability
Available on all up-to-date H5P platforms.
Credits
Branching Scenario has been co-sponsored and co-designed by
Victoria University
. Special thanks to Michael Sturmey and Simon Lismann.
Labels for Virtual Tour 360
The top feature request for Virtual Tour 360 has been the ability to add labels to hotspots. We have now made this possible. You may also configure how each label is to be displayed and configure the default for all of them as well.
See the screenshots:
Click below to try out this feature!
Try it out!
Availability
Available on all up-to-date H5P platforms.
Sponsors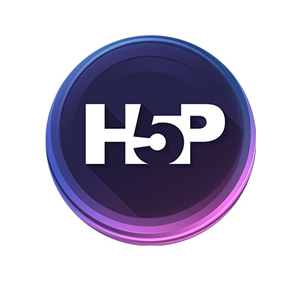 The H5P.com customers
The customers of H5P.com, the SaaS version of H5P, are the biggest sponsors of H5P. While enjoying the best version of H5P, receiving priority support from the H5P Core Team and experiencing high-end hosting, H5P.com customers contribute massively to the open source project with feedback and funding. H5P.com was launched August 1st 2018. After three years, more than 1500 organizations are now using H5P.com. Our partner list includes 4 of the world's top 5 universities, large school districts, some of the world's leading car manufacturers, famous NGOs and more. By joining H5P.com organizations make H5P possible and help move H5P forward faster in the years to come.
What to do next?