Moodle/SCORM?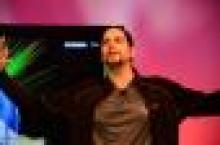 Hello all,
Apologies if this has been asked before-- I couldn't find a search function for this forum?
Anyway, I run a departmental training program at a tech company, and I've been looking for ways to make nice-looking content (that doesn't involve a $1k license per person developing that content).
HP5 looks really cool, and I look forward to investigating it more. I see that it has some kind of integration with CMSes like Joomla, but ideally I would like to have not only the content, but allow scores to be reported to an LMS (Moodle in my case). Does anyone know of any work that's been done to allow HP5 content to speak SCORM or LTI or some other way to allow scores to count toward a centrally recorded course grade?
Failing that, just being able to display the content in Moodle would be good. I can think of a few ways I could approach that, but has anyone done it? Are there any best practices I should know about?
Thanks!