Ideal Platform for capturing user responses & analytics?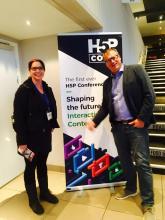 Hello All,
I am wanting to get first in line for the new H5P as a service coming up, and have some questions.
Will I need an LMS or LRS to connect with H5P as a service (the .com)? Or could I simply drop my H5P interactive content on a website of my choice, and the .com service will provide me with xAPI user data? (for example, right now I have links to interactive content on my own personal/consulting website, but I have no idea how to capture the user responses or analytics).
For the moment, I have the following options for hosting my content:
my Drupal site that where I have H5P plugin installed.
I have also been exploring hosting a Moodle classroom, but hosting and adminstering a Moodle site all by myself is quite a chore.
I created a simple course using Moodle Cloud and started hosting some of my content there, so much simpler for a rogue user with limited resources, but I'm still really unclear on how to access my user responses and analytics
my own website and hosting service with no plugins or LRS, just Google Analytics (which will NOT give me user responses, right?)
All I really want is to be able to host my interactive content and capture user responses and analytics. I'm hoping you might help me narrow down what minimal platform do I need to accomplish my goal of capturing using user reponses and analytics?
I would appreciate any direction you might be able to offer, and happy holidays!
thanks so much,
-debbie