dialogue cards behaviour: show/hide image upon flip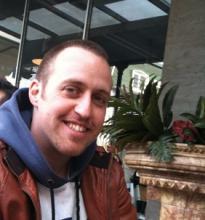 Feature Request: Dialogue Cards --> Behavioural Settings --> Show image on flip only / Hide image on flip.
It seem that now the default behavior is to always show the image. This is great for the initial learning phase. Imagine if there were an option to initially hide the image in a dialogue card. I believe this would be the natural progression in the language learning process. Take the Arándanos azules / Blueberries example from https://h5p.org/dialog-cards. After learning a set of vocabulary words, it would be nice to have a quizzing component in which only the word Arándanos azules is visible (and audio), with NO image. Learners could quiz then themselves, and then flip to check both the image and the word 'blueberries' , confirming that they indeed learned the word or didn't. This would add a quizzing phase to the dialogue card content type. Alternatively, the image could be shown initially and hidden on flip, creating a quiz that starts on the flip side.
Thank you so much for considering this!
Avi
Summary:
Only show image on backside (for more difficulty).
0
Supporter votes Members of the Supporter Network can vote for feature requests. When the supporter network has generated sufficient funding for the top voted feature request it will normally be implemented and released. More about the H5P Supporter Network